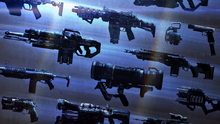 "

If it can exist in a DARPA video, it can work in Titanfall.

— Ryan Lastimosa, lead weapon artist at Respawn

"
In the Titanfall universe, the various combatants employ a massive array of weaponry in various forms and functions. The majority of these weapons are manufactured by arms companies such as Lastimosa Armory, Wonyeon Defense, Emslie Tactical and Vinson Dynamics.
Weaponry can be classified by many varying factors; role, user(s), operation, manufacturer and faction can all play a big part.
Infantry Weapons
As the name suggests, infantry weapons are weapons intended to be used by infantry, be they Grunt, Pilot, Spectre or Stalker. Several sub-categories can be devised as shown below.
Assault Rifles, Battle Rifles and Carbines
Submachine Guns and Personal Defense Weapons
Sniper Rifles and Designated Marksman Weapons
Light Machine Guns
Shotguns
Grenade Launchers and Anti-Titan Weapons
Sidearms
Ordnance, Explosives and Grenades
Titan Weapons
Titan Weapons are the weapons employed by the massive Titans. They can come in one of three broad classifications; Primary, Ordnance and Core.
Primary Weapons
Ordnance and Tacticals
Cores
Some Core Abilities offer passive or defensive bonuses to their Titan, while others are direct attacks. The Laser Core, Flame Core, Burst Core, Salvo Core and Flight Core are all direct attacks, while the Smart Core, Upgrade Core, Damage Core and Sword Core all enhance or upgrade the outgoing damage of the parent Titan's weaponry in some way.
External links