Archive: 33,602 / 50,000 bytes.
Hello there and welcome to my Talk Page! Feel free to leave me a message at anytime if you have any questions or concerns. Please properly title your message and indent any responses, and sign your message with four tildes (~~~~). I will always respond on your talk page usually within 24 hours -- at most a couple days -- unless I am unable to access a computer. I'd appreciate it if you can leave any responses here on my talk page as well. Thanks!
Talk Page Archives: Archive 1
Explain
So, my Titanfall 2 Weapons navbox was edited to... bad thing. I don't like how original navbox looks like and tried to make it without subgroups so there won't be those transparent lines which looks out of place.
Look, the new game got RPG'd and MOBA'd a bit, so I don't see the point in making Titanfall 2 Weapons navbox to be general for both Pilot and Titan weapons since every Titan has it's own set of weapons and abilities now. So it might be good to use two separate navboxes or just redesign the current one, so it won't involve any unused space between blocks. Also, maybe colors need to be rethinked.
I won't be undo-ing it.
And that infobox needs to be fixed - what is that "float right" thing in every weapon page? There are two templates for weapons, but the one with slash is working properly. So many things need to be revisited here. I will be visiting here again with template design suggestions later or not. Medlone (talk) 02:10, June 13, 2016 (UTC)
I see. I'm looking forward for your idea of redesign of this wikia to be matched with Titanfall 2. I'll be waiting for more Titanfall 2 info for now.
About navbox: Dunno, man. I don't want to photoshop the image with my ideal navbox (I might to though) so you can understand me. I don't understand how you can use that weapon navbox template, it looks bad to me with it being so unprofessional looking even for a wikia. I really hope it's not "your wikia" or "admin's wikia" case and it being the reason for everything being "alright". Medlone (talk) 02:40, June 13, 2016 (UTC)
Untitled
Hey NFG I see that you are updating the Titanfall 2 wiki very quickly and it's quite impressive. This is my first time editing on a wikia page and I'm a huge fan of Titanfall 2 I would like to help contribute but in your articles for the weapons in Titanfall 2 have a banner that says Unreleased content. I cannot find that banner anywhere and would like to ask you how you added that feature. Thank you for taking time out of your day to read this. contact me whenever you are free. -Dan 
New Titanfall 2 Images that need sizing
Hey NFG I see that you are really good at sizing the images from Titanfall 2 and given that you are really good at editing I want to send you a link to a YouTube video with some new footage of Titanfall 2 Multiplayer which has tons of new Images and weapons. California Dan (talk) 22:28, June 13, 2016 (UTC) Dan
Here is the link- https://youtu.be/RuLhQTAA1Yw
Good to be back! My Titanfall-editing ability was kinda hampered by my not actually having the game, but I'm sure that won't be an issue this summer when I finally get that xbox one. Looking forward to this and Mankind Divided! Among other things.Doctor Fluffy (talk) 02:09, June 16, 2016 (UTC)
Unknown Revolver
I'm about... 81% sure the Unknown Revolver is new. The shape is slightly similar, but the colors and muzzle brake are off. And, well, didn't want to jump the gun.
Doctor Fluffy (talk) 03:37, June 16, 2016 (UTC)
Hello again!
Been a while since we spoke. In fact probably not since my work ended on the Far Cry community after the launch of Far Cry 4 (and your promotion to Admin there).
The Titanfall community was recently assigned to me due to the upcoming launch of Titanfall 2. As a Community Development Representative for Wikia, I have been given the task of ensuring the latest information is available on the community and assist your community in any way I can. Please let me know if there is anything I can do to help out.
I did play a little over the first tech weekend but that genre is not one I normally play and it showed. My character was killed repeatedly, so if you are looking for help with guides or tips, I am not that person. :)
I am glad to see you here, as we have worked well together in the past. I look forward to supporting the community as the game launch nears. Pinkachu
(talk) 16:42, August 29, 2016 (UTC)
Hey NFJ one day when we are able to gain the rights we want you back on the team on the Mianite WIki
Titanfall Frontline
Any plans to cover this?  I was thinking maybe a single page article anyway.  Pinkachu
(talk) 20:58, September 12, 2016 (UTC)
Hello. I am a moderator and user at VS Battles Wiki.
I was wondering if I could have permission to copy and use text from some of your Titan profiles as I am making and editing articles for them, and I want get permission due to a recent situation over there. If we could obtain persmission to use and modify information based for apage summaries I'd appreciate it!
-SoyHop
Found a bunch of new weapons in videos here. So I kind of, uh... binge wrote the articles. A lot. Edit: Sorry for any confusion, and for going overboard.
Doctor Fluffy (talk) 22:23, September 22, 2016 (UTC)
Mainpage Featured Article
Hey, was just looking over the mainpage to see what has been updated for Titanfall 2 and it looks great other than the Featured Article. Do you have anything a bit more recent you could change that out with? Looks like the rifle has been the feature since May 2014. Feature one of the new Mechs maybe? Pinkachu
(talk) 21:52, September 28, 2016 (UTC)
New Feature: Discussions
Hello NinjaFatGuy!
I'm here to give you a heads-up about Discussions, a new feature that we're currently beta-testing and rolling out to more and more communities.
Here's a short overview, in case you haven't heard of it yet: Discussions is a forum-like conversation space that works equally well in a desktop browser, mobile browser, and in our community apps. It will eventually replace the current forums, and all existing forum content will move there. With communities that already have Discussions, we've seen a big influx in new members for the community who signed up just so they could use Discussions and talk to other users about their favorite game. It made the wiki accessible for a lot of users who loved the topic, and enjoyed the articles, but couldn't quite find their niche to contribute before.
Instead of giving you a lengthy description, I suggest checking out Fallout Discussions as an example to see what Discussions is like: http://fallout.wikia.com/d/f
You and the other admins and moderators in this community will have special moderator rights in Discussions as well. You can lock and delete threads, undelete them, see posts that users have flagged as inappropriate, and customize your own guidelines for Discussions, for example, and we're still working on adding more moderation features.
Since Titanfall 2 is coming out this month, and you already have a popular community app, we expect Discussions to become quite active. This could be an opportunity for you to reach new potential members and to grow the community even before the release of the game. If some experienced community members are willing to keep an eye on the new space and post good content at the beginning, leading by example, that'll help make this a valuable new addition to the wiki.
Are you or any of the other current admins and mods interested in moderating Discussions, once it's set up? If you don't have the time to add this to your duties, you can instead look for responsible, active candidates among the new Discussions users, and promote them to moderators. Some Discussions users may not even edit the wiki (many only visit it via the app), but we've seen Discussions-only users do a very good job at moderating.
Other communities have chosen to go that route, with a Discussions-only group of moderators, some have a mix of experienced wiki editors and new Discussions users moderating, and some just expanded their regular moderation to include the Discussions conversations.
Please let me know if you have any questions about this! We're happy to address any concerns you might have, and to help you set up a moderation team for Discussions, if you're up to it! Pinkachu
(talk) 19:01, October 6, 2016 (UTC)
Re:Discussions
Hello!
I have enabled Discussions on your community and requested that it be added to the dedicated mobile app as well. While the desktop users will be able to use it right away, it will take a bit longer for app users to be able to start using it. I added a link to your navigation bar but Discussions is located here.
Early next year we will be migrating forums to Discussions and retiring the forum feature. If you would like to be one of our first to migrate, let me know and I can set that up. Your topics and content would be converted to Discussions for you and we would turn the forums off once it was complete. You could even put something in the forums now, encouraging posters to move to Discussions.
Be sure to use the link and see the options available to you. Images will need admin approval but anyone can report a post. Moderators will be able to edit or remove posts. I added a hero and icon image for you, but please feel free to change them out. You can also add up to a total of 10 categories for users to tag their posts with. I will help moderate Discussions for now and I will also keep an eye out for regular posters/reporters to possibly promote to moderators. I will let you know if I see any good candidates.
We have found that most of our Discussion postings come from mobile users, who only log in to communicate with other players, which is great, because this still drives traffic to your community! If you have any questions and can't find the answer in Help:Discussions, please let me know! This feature is still in beta and we are here to help you with it in any way we can. Pinkachu
(talk) 23:11, October 6, 2016 (UTC)
Titanfall 2 Videos
Hey NFG!
Just wanted to run something past you. We were planning on doing some gameplay capture at the office for Titanfall 2 when it comes out and wanted to see if it'd be cool to host some of the clips on appropriate TF2 pages. For example, short vids showing off the different types of Titans/Weapons etc. on their respective pages. There might be some slightly longer multiplayer strategy vids as well, but we could talk about what the right page for those are.
Anyways, lemme know what you think when you have a second, and have a good weekend if I don't hear from ya before then!
Cheers
Michael
(profile)•(talk) 21:36, October 21, 2016 (UTC)
Titanfall 2
Hey NFG. I am aware that Titanfall 2 released about a week ago, so it is still fairly new, but there isn't a whole lot of information available on this community regarding it. I have not been given access to the game myself, so I haven't been a whole lot of help. I will research information on Monday via the web to help create some pages with but was hoping you could stop by and either add information yourself and/or encourage your community to help out. I'm sure everyone is probably buried in the game still but it would be sad if players had to go elsewhere for gameplay help. I updated the navigation to include Titanfall 2 and attached the categories that were available. Pinkachu
(talk) 02:04, November 5, 2016 (UTC)
Smart Pistol
Gave the Smart Pistol its own section under "Boosts" in Titanfall 2's template. Should there be a new page for the Smart Pistol MK6? Also, added so much concept art!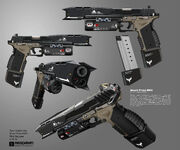 18:19, November 5, 2016 (UTC)

(to whomever wrote this and put it under my heading, I moved it and gave it it's own. The big "A" icon is a level two header button. Use it and don't forget to add  your signature or nobody knows who to answer back to. The instructions are right under the formatting icons. Thanks! Pinkachu
(talk) 21:20, November 8, 2016 (UTC))
Categories to appease mobile view
Hello. Just wanted to give you a heads-up on why I am adding categories to category pages. If a category page is not 'created' (simply adding a new category to an article does not actually 'create' it), then it can't be added to the mobile main page TOC. Titanfall 2 was not on your mobile app at all. I fixed that today and I will be going through the rest of the category pages as I have time and making sure they have been created so your mobile users can use them.  Thanks. Pinkachu
(talk) 22:55, November 8, 2016 (UTC)
Sorry if I'm bad
hello, I made a page for the expidition loadout for BT but I just thought I'd give an admin a heads up that I'm not very good at editing and that it's still missing a lot of content.Jzillacon (talk) 16:24, December 3, 2016 (UTC)
I was wondering if you can help with a wiki that I am currently building. It is called the Heroes over Europe wiki and I am the only one working on it. If you are available, can you help with making more pages and proofwriting any mistakes that I have made?
WATCHDOG220 (talk) 20:08, January 18, 2017 (UTC)
Concept Art questions
Hey, I have a question about stuff in relation to lore posting. Notably, that Artist Ryan Lastimosa's art typically comes with detailed descriptions of a weapon's purpose and history. Am I okay to post this info in 'lore' sections of a page, if clarified as concept art-mentions? Additionally, what about separating weapons like Smart Pistol, Spitfire, and so forth that have been mentioned as different variant between Titanfall 1 and 2? Thanks. BaconShelf (talk) 12:10, May 2, 2017 (UTC)
Some more questions
Hey, I have a few minor, unrelated questions so I'll just list them in no particular order.
Are there any plans to update the navigation bar at the top of the site? In particular, the Titanfall 2 Gamemodes, DLC and Characters tabs could use some updating. Maybe replace one of the Jester links with Ash or Barker, as other faction leaders present in the game. Likewise for adding Vinson, ARES, etc to the factions tab.
I've also created the article Titanfall Universe, along similar lines to a similar page on Halopedia that outlines a basic summary of the Halo universe for new players to familiarise themselves with the basics of the lore. I'm still working on it on and off but I'm wondering, where should I categorise it?
I've also noticed that the Candidates for Deletion page has a few spam pages contained within. Just thought I'd let you know!
Lastly, is there any policy on uploading information that is not explicitly confirmed? I've been thinking of doing a writeup for the article Frontier Defense, given the extensive .VPK modding that has gone on and given us plenty of information about Frontier Defense 2.0 for Titanfall 2 - however, none of it has been explicitly confirmed by Respawn so I've been holding off. On a similar note, is uploading information such as the extracted weapon damage values or "hidden" patch notes (IE changes made to files that aren't publicly announced/ the precise values) ok?
Thanks a lot for your time! Also in case you didn't know, I've been uploading a lot of iconography for Titanfall 2 Boosts, Kits, Weapons, Executions, logos, Callsign banners, concept art and renders and so forth I've been able to find from artist portfolios and files so if there's anything in particular you need for icons and stuff, let me know and I'll try to find it! /blatantselfplug BaconShelf (talk) 22:09, July 5, 2017 (UTC)
Awesome, thanks for the response! I'd defnitely be interested in such a role - what would be involved? BaconShelf (talk) 10:30, July 8, 2017 (UTC)
I've just read through the link you provided, I'd certainly be up for that. Thank you for the offer! BaconShelf (talk) 21:14, July 8, 2017 (UTC)

Thanks a lot for the opportunity! I've already updated the navbar at the top, but I was wondering - would you have any objections to changing two of the homepage's sliders to be for the latest DLC (In this case, The War Games, and something else I'm not sure of yet. Maybe the DLC prior. I was thinking this could be nice as all four sliders link to Titanfall and Titanfall 2. What do you think? BaconShelf (talk) 22:29, July 10, 2017 (UTC)
Weapon Pages
Hey, I've been playing around with an idea on how to restructure the format for weapon pages - particularly for the ones that appear in both T1 and T2, as I feel that the layout is pretty cluttered right now. However, I didn't want to start going and mass-redoing everything without getting some feedback on the idea first. Right now, the articles for weapons like the R-101 or Longbow are structured in such a way that the have two infoboxes, one for each game's appearance, and act like two articles in one. I think this could be simplified down to one infobox containing info about the weapon itself (IE role, usage history, calibre, manufacturer, technical specs etc), with different sections describing the gameplay aspect.
For example, the R-101C article that I designed in my sandbox area here has a section describing the weapon itself - how it performs in general terms and what it is in-universe - then  a section for Titanfall 1 where specific damage values and whatnot could be described. The section for Titanfall 2 could then compare to Titanfall 1 in how it works, along with describing unlocks related to it like banners. A good example of this in use (and where I got the general idea from) would be Halopedia's way of formatting their articles for weapons featuring in multiple games (such as the M7 SMG or BR85 Battle Rifle). I also think this could then avoid the problem of a table appearing under an infobox with a lot of space between the text and the infobox (such as on the Titanfall 2 section of Spitfire), making the overall layout look neater, too.
Right now, I do think the article layout is rather confusing and cluttered and often seems to prioritise Titanfall 1, whereas I think the layout could do a better job of presenting the weapon neutrally. But like I said, I didn't want to just start going ahead and mass rewriting everything without getting some feedback first.
Also, and while I'm here, what do you think of combining articles such as Suicide Spectre and Blast Spectres? The former is the Titanfall 1 enemy type, while the latter is the same thing but in Titanfall Assault. They look the same but are named differently in different games. Same could go for Light Turret and Sentry, Grunt and Grunts, Spectre and Spectres and so forth or (the opposite way around) any of the Titans such as Atlas, Ogre or Scorch, where there is a section in the same article for how they play in Assault but would this be better off as an Atlas (Titanfall Assault) article separate to the main one?
And on a completely unrelated note, I finally finished rewriting/ standardising the articles for the first game's multiplayer campaign (such as here). I'm considering writing up full transcripts for the mission dialogue, but I'm still trying to figure out how to account for both factions and both outcomes for each mission (IMC or Militia Victory).
BaconShelf (talk) 09:05, September 1, 2017 (UTC)
No problem, thanks for the reply. I'm going to get started on revamping the articles today, thanks a lot for the feedback. BaconShelf (talk) 10:09, September 8, 2017 (UTC)
Pilot8's questions
Hi i am here to help,and i would like to help as much as i can,so if you need anything please let me know.
Usertalk:Pilot8

Pilot8 (talk) 13:26, September 7, 2017 (UTC)
How do i make a blog on my page
Pilot8 (talk) 18:42, September 7, 2017 (UTC)
Audio log location?
Could you please tell me where to find the following audio log in chapter 5....  I just can't find it
"Dr. Tyler Parsons Log 3.2. I found an IMC security guard in the targetting room. His body was... I don't know how to explain it. It was warped. Backwards. Taking him to Human research."
Zuigkonthoer (talk) 00:29, September 9, 2017 (UTC)
Hi thank you for your help, I appreciate it.
Please ban 52.206.255.161 as he put inappropriate information on the page "James MacAllen"
RE:Dropping By
Why thank you! I've not been able to be as active in recent months as I might like due to university keeping me very busy, but I've been trying to get little bits done here and there.One project I completed over the summer was writing, uploading images for and categorising all Titanfall and Titanfall 2 achievement-related articles, a project I'm fairly happy with the result of (link! ), and a similar project for all Burn Card pages (link ), to standardise file names and page layouts. My longer-term projects at the moment are a large cleanup of the images on the wiki to remove old or low-quality images (and where possible replace them with proper ones) as well as properly name and categorise every image for better overall organisation, alongside cleaning up the unused images category. Two other large projects I'm fairly happy with are the Banner and Patch pages, and I intend to complete similar projects for all Titan nosearts and warpaints (I have the images ready, I just haven't been able to find the time to sit down and edit the images in Photoshop for upload). 
One ongoing project that I saw you have already edited on R-101C Carbine  was part of my ongoing Weapons cleanup. Due to how cluttered some of the weapons pages were getting, I've begun a project to split some of the more detailed information about stats and gameplay etc into an X/Gameplay page (such as R-101C Carbine/Gameplay) similar to what you might find on some other wikis with a similar overview/ gameplay split. The goal with this is to prevent a page from having multiple infoboxes and being taken up by a large majority of tables - another effort as part of this has been to streamline the challenges from Titanfall 1, as there were many pages for Challenges that only had one sentence and have been able to streamlined into one page overviewing the challenge as a whole, allowing for cleaner pages in the challenges department (Hemlok BF-R) is a good example. One last project I suppose I should mention is the transcripting of all pre-mission dialogue and providing proper summaries of all Titanfall campaign missions (such as Training) to allow people who missed out on the first game's story to catch up appropriately. I've done the same for most Titanfall 2 missions (sans transcripts) but there are one or two I haven't got round to yet, and I'm still planning on writing a collectibles guide for the Pilot Helmets.
Overall I'm pretty happy with the state the wiki's in right now, and most of my projects are more back-end cleanup to get the Wiki in a good shape for the Titanfall 3 announcement, whenever it might be, and a resurgence of interest in Titanfall as a series and more people joining the wiki. I've also set up a Titanfall Wiki Discord  to help with discussion of both Wiki and Titanfall related purposes in case you're interested in joining. Either way, it's good to see you around, and I'm looking forward to being able to work together on future improvements to the wiki!BaconShelf (talk) 13:29, January 14, 2019 (UTC)
That's fair, and I can see your point with the multiple infoboxes thing. One such idea I've had in mind for a while now would be to separate the generic camos and unlocks (so not including the elite warpaints + attachments here) onto their own page much like I've done with the Banners and Patches, then under the Customisation header for the weapon page, we could include info on attachments and other gameplay alterations, elite skins and then link to the relevant page for the generic camo unlocks? Then that way we're not gonna be writing out the same "Get X kills with the Y" or what-have-you over and over again for every weapon out there - similar to how I've structured the challenges on the pages I've thus far been able to change in that regard. A similar section is currently on the page Ion, though perhaps not as detailed as I would like it to be. I think such a system listing the things that are immediately relevant to the page subject and then links to find out information about the more generic items (such as warpaints that can be applied to every weapon and titan in the game) is a nicely organised system that helps spread out information more evenly. It would also cut down on creating a page for every single camo or other customisation item in the game, for it to only have one sentence. I'm currently aiming to transform the Titan Insignia page into a layout similar to the Banner and Patch pages so we can cut down on having a page for every single individual insignia. One suggestion I would make for the weapons pages however we go about it, however, is to keep an infobox at the top for canon/ lore information. For example, the Hemlok is stated to have multiple fire-modes not seen or usable in regular gameplay, and thus wouldn't be covered in the game-specific infoboxes.
Otherwise, the main areas I'm looking at for cleanup are repeat/ duplicate images or generally low-quality galleries. Pages such as [[1]] and [[2]] are good sources for this, as they help find images that haven't really been looked at in a long time. A lot of the images in both categories are things such as screengrabs of pre-release youtube footage from before Titanfall 1 released, and I think that many of them aren't particularly relevant anymore, now the game has been out for nearly five years(!) These pages are also a good source for files in need of renaming, as most of them haven't been looked at in a while. The general format I use is (Game Initials)_(Subject)_(Type of Image). So say, TF_R101Carbine_Concept.jpg or something similar. This way, the source of the image should be the immediately first thing you read, followed by its subject and finally the kind of image. I also have screenshots of every single weapon from Titanfall 2 on my hard drive with the intention of cutting them out to be clear images (like what we see with the TF2 Hemlok on the Hemlok page), but creating HQ crops is a time-consuming process and I've been unable to find the time to do so. One other page I feel I should mention is the Unnamed Titanfall project, designed to collate any confirmed information we hear about TF3 (or whatever it may be called) before it's announced. Either way, I'm looking forward to being able to cement a weapon pages layout going forward, as it's something I've been experimenting with and haven't 100% nailed down. In particular, I think templates and infoboxes are going to be the target of my next major cleanup, so we can standardise a naming convention and whatnot to bring it all up to date and ready for when we inevitably have more weapons and stuff to add in the future.BaconShelf (talk) 23:01, January 14, 2019 (UTC)
[Reset]In fact, I already have a tempalte I began setting up for challenges. Pages such as If It Moves... have the table in them listing their requirements and rewards, but I don't feel that it would take too much effort to list all the weapons the challenge is compatible with and their rewards, similar to your idea. Then yeah, keep a small summary of the challenges available for the weapon on the side. A Camo subpage would be a good idea, the only obstacle there is that grabbing images for each weapon in every camo would be a very time-consuming effort due to the unlock requirements for some of them (you can blame whoever thought putting a bar that blocks the skin preview was a good idea for that) - I haven't really played all that much Titanfall (or really many games at all) since starting university in September 2017, so that would leave massive gaps in the image libraries. My suggestion for centralising all the challenges was based on that then we could simply grab the icon for the camouflage, as the camos are all just tiling textures applied to certain parts of the weapon as a skin (minus the Elite Warpaints which are custom-painted for each weapon).BaconShelf (talk) 23:34, January 14, 2019 (UTC)
Bangalore page update
Looks good! Only thing I'd suggest is to rename the image you used for the currency now before we start adding it everywhere so we don't need to sort through thousands of file links later. Otherwise, there's not really much we can do until gameplay and whatnot starts pouring in. BaconShelf (talk) 00:09, February 5, 2019 (UTC)
RE:Weapon Images
Hey, sorry it took so long to get back to you on this. I'm currently the lead artist on a university project so that's eating a lot of my time at the moment (hence the slow reply and lack of updates - Apex Legends really did release at the wrong time for me!). The weapon images from Titanfall 1 are actually taken from the images utilised in the game files themselves, which is why they look so clean. I do actually have a library of images on my PC I've been intending on spending some time cropping to do the same for Titanfall 2's weaponry (see File:TF2_Hemlok.png as an example I did get round to doing) but I've simply not had a decent chunk of time in the past few months to spend on it, as image cropping to a good standard is a lengthy process. Once my schedule clears up towards May it's one of the first things I intend to do to bring the TF2 weapon articles up to speed, but I can't promise anything speedy currently. Rest assured though, it's on my list. Sorry about taking so long to get back on this. BaconShelf (talk) 17:04, February 8, 2019 (UTC)
Unfortunately, grabbing 3D model and texture files is a lot more complex than simple images. Titanfall 1 actually has .png images in it's files of all their weapons, so it's easy to grab, whereas in TF2 the closest equivalent is the HUD icons already on the wiki. Grabbing 3D models is much more locked down and frowned upon by Respawn + EA than grabbing pictures, and I'm not sure how I'd go about it. thankfully, Titanfall 2 lets you preview all weapon models in the lobby so we can get side-on views of them and crop manually. This is pretty much what wikis like say, Halo Nation or Halopedia do for their weapon renders a lot fo the time. BaconShelf (talk) 14:49, February 9, 2019 (UTC)
My retirement, kinda
https://community.fandom.com/wiki/User_blog:NinjaFatGuy/My_retirement,_kinda
--NinjaFatGuy (talk) 21:07, December 30, 2019 (UTC)
vandal, please block
Sniperstock (talk) 00:39, April 30, 2020 (UTC)
Community content is available under
CC-BY-SA
unless otherwise noted.