Welcome to the Titanfall Wiki — the most comprehensible, informational, online encyclopedia that revolves around the universe of Respawn Entertainment's first-person mecha shooter franchise, Titanfall. Maintained by fans and players, the Titanfall Wiki has over 1,612 articles combined by 38,113 edits since June 7, 2013, and you can help!
Navigation

Featured Article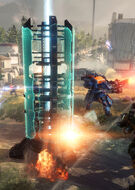 Frontier Defense is a co-operative, wave-based mode featured in Titanfall and returning to Titanfall 2. The mode involves four Pilots defending a Harvester from increasingly difficult waves of invading IMC troops. The mode features several unique types of NPC enemy and several unique mechanics not seen elsewhere in regular gameplay.
User Blogs and News

| | | |
| --- | --- | --- |
| News Blogs | | Community Blogs |
Featured Videos

Featured Poll

Are you enjoying Apex Legends?
Did You Know...

...that the helmet design of the Pilots were loosely inspired by the Star Wars character Boba Fett?
...that on the map Demeter, inside the central facility, there is a small model of the mythological creature the Loch Ness Monster on top of an upper pipe?
...that on Angel City, there's a poster on a building titled "Kodai", which is a reference to fanart submissions sent to Respawn?
...that the voice of Sarah is provided by Respawn Entertainment's Community Manager, Abbie Heppe?
...that the first Titanfall was originally going to feature a single-player campaign, but it was removed due to development issues?
Community Links

---
---
---
---
---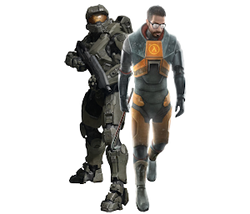 Community content is available under
CC-BY-SA
unless otherwise noted.