Cancelled
The subject of this article concerns content that was to appear in a now-cancelled Titanfall product that never made it to full release and is considered by this wiki as of Dubious Canon. Should the subject of this article be brought back in a future product or its canon status officially established, this notice should be removed.
Dubious Canon Notice
The subject of this article contains information derived from Titanfall Online, and is of dubious canon status. Until a canon precedent is established for this source, this notice should not be removed.

Titanfall Online was a canceled Free-to-Play (F2P) port of the original Titanfall game, developed by Nexon and aimed primarily at the Asian market, such as South Korea and China. As a port of the original Titanfall, it does not feature all that much content different to the original, though there are some differences. The game has only seen limited release in Asia, with a closed beta running from August 24 to September 13 in South Korea.[1] Titanfall Online was canceled on July 9, 2018, primarily due to poor reception during testing and a changing market.[2]
Note: Description is based on a Google translation of the original introduction, and may not be entirely accurate.
The Frontier is a new frontier of humanity that has left the Core System. In this giant spacecraft and machine civilization pilots have led numerous wars with a huge exoskeleton called 'Titan'. The resistance group the Frontier Militia drove out the giant IMC, and the long war seemed to be over.
However, the IMC, which rushed to another planet, plans to counter the resistance. It was to use TALOS, a planetary environment control system, as a new weapon to neutralize the base of the resistance. This resulted in irreversible results. TALOS, an artificial intelligence that transcends mankind, has begun attacking humanity by dominating machine soldiers when the safety device is lifted.
The planet Tristan, which has been destroyed by TALOS, has become the most dangerous planet for mankind, but this is also the stage for new pilots to play. Soldiers, explorers, assassins, sheriffs, and outlaws gathered for their own purposes. Someone is trying to blow TALOS, and somebody is trying to take TALOS. Someone fights for their beliefs, and someone simply enjoys battle.
Everyone's purpose is different, but the moment you enter the battlefield, the mission you will have in the Frontier is to survive and win. Choose a pilot to control the battlefield and summon a Titan. The Titan will answer your call.[3]
There are four primary Pilot characters to play as in Titanfall Online. It is currently unknown what gameplay differences they provide to Pilots in the original Titanfall - however, they have been given official backstories to set them within the TitanfallUniverse.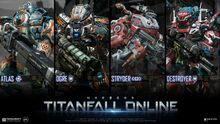 Aside from the Atlas, Stryder and Ogre, Titanfall Online introduces one new Titan chassis, based on the Ogre, called the Destroyer. In terms of gameplay, Destroyer still uses the Shield Core, but is equipped with the offensive Charge Cannon that fires a beam similar to the Laser Shot. The original three have also seen redesigns, and all four Titans have the addition of the Tier 2 Titans.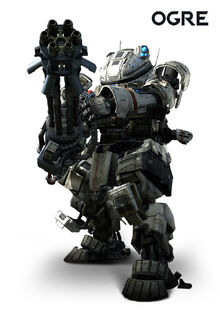 Titanfall Online includes all Pilot and Titan weapons from the original Titanfall. It additionally includes several new additions to the Titanfall universe for both Pilots and Titans. These include the;
Returning
Edit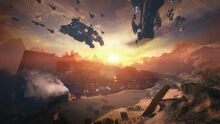 Titanfall Online has been seen to have the following maps. The majority are returning maps from the original Titanfall and its DLC, but there is one Online map new to the series.
Returning
Edit
Game Logo
Edit
Promotional Images
Edit
Trailers
Edit
References
Edit
↑ Twitter: "TITANFALL ONLINE closed beta will run from August 24th to September 13th in South Korea."
External links
Edit
List of Titanfall games
Main Series
Spinoff Titles
Mobile Applications
Cancelled Games
Community content is available under
CC-BY-SA
unless otherwise noted.