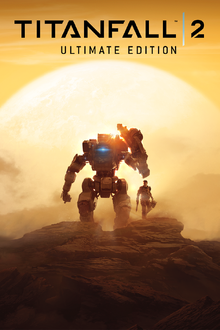 The Titanfall 2 Ultimate Edition is a special edition of Titanfall 2, released on August 1st, 2017 only on digital platforms. The edition was released with the aim of providing new players a means of getting into the game nearly a year after its launch, and contained several digital bonuses to help.
A trailer for the Ultimate Edition released on the day of its launch, featuring the song Highway Tune by the American rock band Greta Van Fleet.[1]
Contents
Jump Start pack
The primary bonus of the Ultimate Edition is the Jump Start content, a collection of items that help speed up new player progression. These include;
The Jump Start pack was later released as a standalone purchase option, for players who already owned the regular Titanfall 2 game.
Deluxe Edition content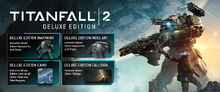 Main article: Titanfall 2 Deluxe Edition
The Ultimate Edition also came with the digital content offered by the Titanfall 2 Deluxe Edition including;
Thunderbird Nose Arts for all six base game Titans.
Excalibur Chrome Warpaint for all six base game Titans.
Quantum Ocean and Splinter Ocean camos for weapon, Titan and Pilot cosmetic customisation.
Ion Prime and Scorch Prime.
Gallery
References