Captain Tai Lastimosa[1] is a character in Titanfall 2. Hailing from the Frontier planet Harmony, he was linked to Vanguard-Class Titan BT-7274 for 973 days before transferring control to Rifleman Jack Cooper, whom he mentored.
Biography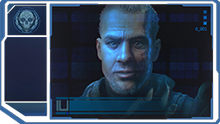 Lastimosa was a member of the highly regarded SRS force within the militia. He saw potential in Rifleman Jack Cooper to be a pilot, and took it upon himself to mentor him. Aboard the vessel MCS James MacAllan, Lastimosa trained Cooper in a simpod on how to use a Pilot's kit. However, the training was interrupted as the vessel came under attack over the planet Typhon. The crew evacuated to the surface, where Lastimosa saved Cooper from Apex Predator Titans. However, he was badly injured by Kuben Blisk's Titan. Lastimosa transferred control of BT to Cooper before dying of his injuries. Cooper gives Tai a proper burial before meeting BT.
Trivia
It is likely that he is named after Ryan Lastimosa, the lead artist at Respawn Entertainment. He also shares a name with the in-universe arms manufacturer Lastimosa Armory, also named after Ryan Lastimosa.
Given Cooper's narration and appearance as a Militia Rifleman in the Titanfall 2 Single Player Cinematic Trailer/ opening cutscene, it is possible that the Pilot that features prominently in the cinematic is in fact Lastimosa before the Battle of Typhon.
Prior to his death, Lastimosa was placed fourth in The Pilot's Gauntlet, with a time of 35.45 seconds.
While being voiced by veteran voice actor Fred Tatasciore, he appears to talk in a slight Australian accent for unknown reasons.
References