"

Alright, kids! You ready for thrills, chills, and kills?

— Davis

"
Davis was a former member of The 6-4, and currently a member of The Last Resort. He often serves as comic relief, with an upbeat, high-spirited attitude to match.
 Biography
Battle of Typhon
Main article: Battle of Typhon
During the chase for the IMS Draconis, Davis would deploy along with three other members of the 6-4 in the later stages of the battle. Alongside Bear, Droz and Gates, he would assist Jack Cooper in the hijacking of the IMS Malta. After clearing the bridge with the help of the others, he and the 6-4 would provide cover fire during Cooper's battle with Viper.[1]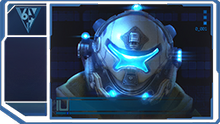 They would maintain control of the Malta and later use it to prevent reinforcements from surrounding Cooper and BT-7274 during their attempt to destroy the Fold Weapon. [2]
Post-battle
At an unknown point following the Battle of Typhon, Davis separated from the 6-4 in favor of The Last Resort, where he and Droz would assist Pilots in defending various Harvesters throughout The Frontier.[3][4]
Trivia
References