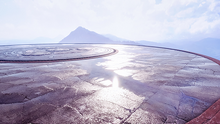 Coliseum is a map in Titanfall 2, designed for the gamemode of the same name. The map is set in a simulation dome, much like those featured in Into the Abyss and Boomtown - however, its layout is simply a large cylinder, with a flat roof and floor. Inside the Coliseum, Pilots battle to the death in a one-versus-one fight.
In the Live Fire update, a map derivative of Coliseum was added named Pillars. It is functionally the same as Coliseum, except with three large pillars in the centre.
Due to the map's exclusivity to the Coliseum gamemode, it is not presently available to be played in Private Match.